Concept: "Bakeoff.org – Elevating the Bakery Experience"
Bakeoff.org presents an innovative bakery chain concept that reimagines the bakery experience exclusively for Bakeoff.org. Rooted in innovation, quality, and community, this concept transforms the way you perceive a bakery visit.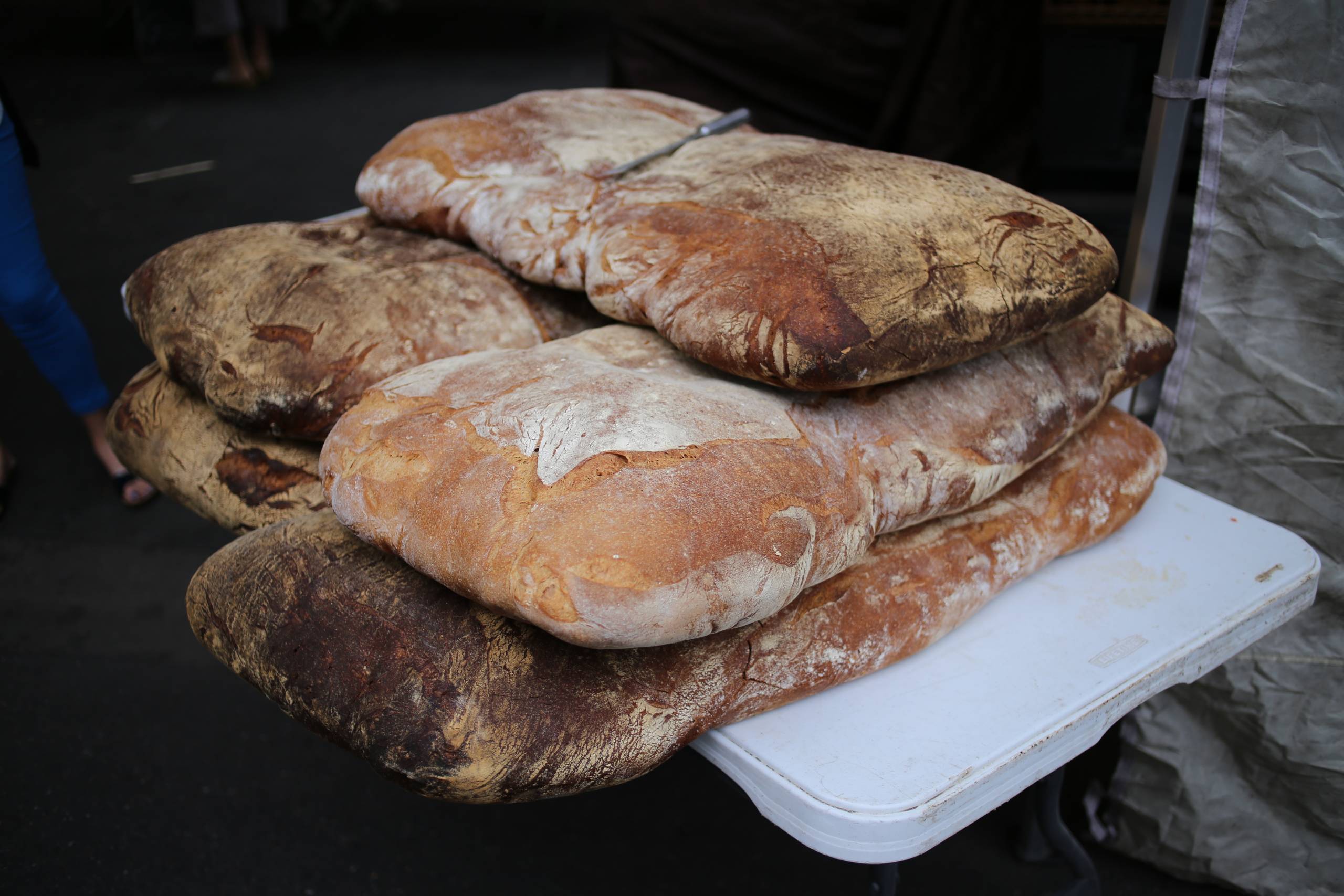 Bakeoff: The image shows a stack of three giant ciabatta bread loaves on a white table. The loaves are slightly uneven in size and shape, with the top loaf being the largest. They are all golden brown in color and have a slightly rustic appearance. The loaves are stacked in a staggered fashion, with the top loaf slightly overlapping the middle loaf. The bottom loaf is slightly exposed, showing the crumb of the bread. The image is taken from a high angle, so the table and the background are not visible. The focus is on the bread loaves, and the lighting is soft and natural. The overall impression is one of freshness and abundance.
The ciabatta is a type of Italian bread that is known for its airy crumb and crispy crust. It is often used in sandwiches and salads, but it can also be enjoyed on its own. The bread in the image is likely to be fresh and delicious, and it would be a great addition to any meal.
A Culinary Voyage: This bakery concept transcends traditional pastry offerings; it's a culinary voyage. Each Bakeoff.org location features an open-concept kitchen, inviting customers to witness bakers crafting their delectable creations in real-time. This transparency fosters a profound connection between customers and the artisans behind their favorite treats.
Artisanal Prowess: Bakeoff.org is unwavering in its commitment to using the finest, locally sourced ingredients. From farm-fresh eggs to organic flour, every element is meticulously chosen for its superior quality and sustainability. The menu showcases an enticing array of artisanal bread, pastries, cakes, and seasonal delights.
Tailored Delights: Personalization is at the heart of this concept. Customers have the power to curate their very own custom cakes, pastries, and sandwiches, selecting from an array of premium ingredients and toppings. A seamless digital interface, both in-store and on the Bakeoff.org website, streamlines the customization process for convenient online ordering.
Community Embrace: This concept is deeply committed to community well-being. Each Bakeoff.org establishment partners with local charities and organizations, pledging a portion of their proceeds to support community initiatives. Furthermore, they regularly host engaging events such as baking workshops, where customers can glean insights from skilled bakers.
Eco-consciousness: Bakeoff.org is a steward of the environment. By employing eco-friendly packaging and robust recycling programs, they minimize waste. They are also dedicated to reducing their carbon footprint by sourcing ingredients locally and implementing cutting-edge, energy-efficient technologies in their kitchens.
Digital Synergy: Bakeoff.org's digital platform seamlessly complements the in-store experience. Customers can effortlessly place orders for pickup or delivery, explore an extensive collection of recipes, watch captivating live baking demonstrations, and actively engage with a thriving online community of fellow baking enthusiasts.
Bread Subscription: Bakeoff.org proudly offers an exclusive bread subscription service, ensuring customers receive a regular supply of freshly baked bread and pastries at their doorstep, either weekly or monthly. This subscription is completely customizable, allowing customers to cherry-pick their favorite items.
Sensory Enchantment: Bakeoff.org Bake Harmony locations are thoughtfully designed to tantalize the senses. The aroma of freshly baked bread envelops the air, melodious tunes play softly in the background, and the warm, inviting decor sets the stage for a serene atmosphere that encourages relaxation and pure enjoyment.
Global Flavors: Bakeoff.org's menu is a global tapestry of flavors. They regularly rotate their offerings to showcase culinary delights from around the world, ensuring customers always have something new and exciting to discover, whether it's French croissants, Italian ciabatta, or Japanese matcha pastries.
Baking Excellence School: For individuals eager to master the art of baking, Bakeoff.org offers the Bakeoff.org Baking Excellence School. Enthusiasts of all ages can enroll in classes taught by seasoned professional bakers, with courses ranging from beginner to advanced levels.
Bakeoff.org aims to transcend the conventional bakery experience. It strives to become more than a bakery, evolving into a destination for culinary enthusiasts, a nexus for community enrichment, and a haven where the joys of baking are shared and cherished by all. This visionary concept promises a bakery experience that is both distinctive and deeply rewarding, ensuring customers return time and again for the ultimate Bakeoff.org adventure.